Can You Put a Fire Pit Under a Gazebo?
Can you put a fire pit under a gazebo? If you are wondering whether it is safe to use a fire pit or other open flames under a gazebo, then you've come to the right place.
A gazebo can be great to have in your garden or yard. It is a fantastic structure that can be a centre for entertaining, dining, and hosting in the outdoor part of your home. Bring out some drinks and invite friends over, and you can enjoy a really fun time.
Are you thinking about adding fire pits? Yes, they are perfect for roasting s'mores and offering warmth on cold evenings. However, are they safe to put underneath a gazebo? After all, combining these two things can make for the ultimate backyard experience.
If you're looking for a quick answer, then it's actually: YES. It's perfectly safe to put a fire pit under a gazebo as long as you have proper ventilation and there are no overhanging branches or plants nearby.
But to err on the safe side and prevent any unwanted accident, we strongly suggest for you to read on and understand more about how to safely put a fire pit under your gazebo.
What is a gazebo?
A gazebo is a freestanding structure, often with a hexagonal shape. It's usually open on all sides and simply offers shade or seating in an outdoor area, such as the backyard of a house. The most common purpose of a gazebo is to provide a focal point or a spot for relaxing and entertaining.
So, what's the difference between a pergola and a gazebo? It mainly lies in the roof design. While a gazebo's roof offers full coverage, a pergola often has slats or gaps that allow sunlight or rain to stream through. So, a pergola is often used for partial shade and as a foundation for climbers and vines, whereas a gazebo is better for full protection against whether elements.
Using a fire pit under a gazebo safely
Here are some tips on fire pit safety when using it under a gazebo.
Refer to local regulations
One of the most important things you should do, first and foremost, is to check your local fire safety regulations. Different states and counties have different rules and regulations, especially in terms of the fire pit size that you can use under a gazebo.
There is also the "no burn day", a rule that forbids homeowners to set up outdoor fires on the dry days of summer. This is to ensure that you comply with the legal regulations while also staying safe.
Maximize ventilation
Just like setting up a fire pit in a screened-in porch or covered porch, the key to using a fire pit safely is to always ensure proper ventilation. This shouldn't be a big problem in gazebos as they usually have open air on all sides. It means that you won't have to worry about smoke build-up because there is plenty of fresh air to circulate around.
Clear away any flammable objects
It's always recommended not to place any flammable objects near your fire pit. For example, there should not be overhanging vines and plants or wooden chairs right next to the open flame. They can easily catch fire and cause a breakout.
This includes the location of the fire pit. If you can, your gazebo has to be far away from the main house and the garage to prevent fire risk.
Check gazebo materials
Don't forget to check the material of your gazebo flooring and pillar. This can be more important if you have a larger fire pit. There is a higher risk of damage and breakout if the floor is made of vinyl or wood, so we recommend using concrete or natural stone as they are fire-resistant.
Additionally, it is also best to use metal, cement, or stone for the pillars. This is because wood and canvas can easily catch spark and light up on fire.
What if your gazebo ceiling cracks?
You may find that the heat build-up under the ceiling of your gazebo may cause it crack or discolour. This is due the accumulation of soot over some period of time. You can prevent this by ensuring that the ceiling is high enough so that the heat and smoke have time to disperse.
But if your ceiling is made of a heat-resistant material, then you shouldn't worry too much about this. It is less likely to experience char.
On a similar note, we do recommend using a gas or propane fire pit instead of wood-burning fire pits. Natural gas is much cleaner and doesn't produce smoke, which can be safer when it is set up under a gazebo.
Examples of gazebos with a fire pit
If you are looking for inspiration to design a gazebo with a fire pit, we have here a few of our favorite examples!
Rustic patio with a fire pit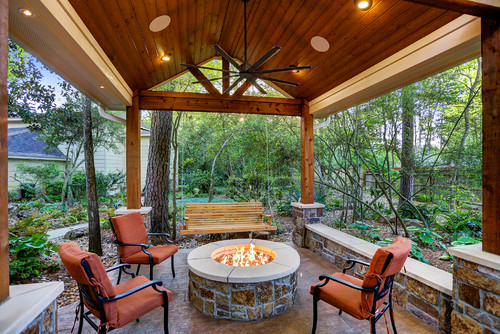 Photo by TCP Custom Outdoor Living – Look for patio design inspiration
First up is this stylish gazebo that features a fire pit under a gazebo. This gazebo area measures around 144 square feet, while the gas fire pit uses crushed glass as the liner. You can see that the sloped ceiling is relatively tall and the open sides allow for the best possible ventilation.
Elegant stone patio and a rectangular fire pit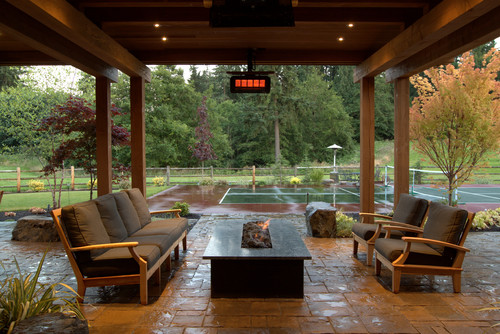 Photo by Alderwood Landscape Architecture and Construction – More patio ideas
This is another example that we adore, especially as it evokes a more elegant and modern vibe. Notice that the flooring itself uses stone, which is completely safe and a great choice to use if you want to install a fire pit. The gazebo is also open on all sides to ensure proper ventilation.
So, can you put a fire pit under a gazebo?
The bottom line is that you can definitely put a fire pit under a gazebo if you know the safety precautions. It can also be worthwhile to keep a fire extinguisher nearby that you can quickly access in case a fire breaks out.
As long as your gazebo has good ventilation for the heat and smoke to disperse, a high ceiling, and follows fire safety regulations in your area, then you don't have much to worry about.
In fact, lots of homeowners have safely put a fire pit under their gazebos without any problem. The most important thing is to be careful and pay attention to safety regulations. Good luck!