How to Measure for Your Fire Pit Screen
Fire pits can be such a fun thing to have at home, but how do you measure for a fire pit screen?
It can be extremely relaxing to gather around a fire pit with loved ones while enjoying some food and drinks, especially on a summer night. But fire pits don't come without risks, as an accident may be just around the corner if it's not used properly!
This is why a fire pit screen can be necessary to help keep you and your family safe even when you are having fun. In today's post, we will talk about how to measure your fire pit screen and get the perfect cover for your fire pit.
What is a fire pit screen?
A fire pit screen is an important item that can help avoid unwanted incidents and sparks or ash from flying all over your home. This will keep you and your possessions protected! Most of them have a mesh dome design that will trap any spark within a close range.
Most fire pit screens have a round shape, as most fire pits are round, but you can also find some in square designs. Other than embers and sparks, these screens can also protect you from popping wood. Not to mention that they will keep the spark from catching fire and damaging your properties.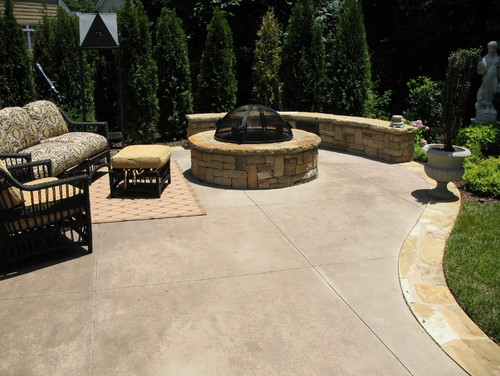 Photo by Botanica Atlanta | Landscape Design-Build-Maintain – Search landscaping design ideas
Does a fire pit need a screen?
Yes, a fire pit always needs a screen. This is the best thing you can have to prevent sparks from flying from the fire pit and protect the environment around it.
In addition, this mesh cover will prevent you and your guests from veering too close to open fire. You will be able to find a fire pit screen of every shape and size, which will help you find the perfect fit for your own fire pit!
Should you cover an outdoor fire pit?
Even if your fire pit is outdoor, it is still important to get a protective cover. Not only does it prevent sparks from landing on nearby items like your cushions and furniture, but it also protects the fire pit from damage when not in use.
Better yet, a fire pit screen can actually help your fire pit remain dry, which can be super useful when you are trying to light up a fire next time. It provides a nice shield from rain, harsh sunlight, and animals! It will also prevent rust and discoloration.
One thing to remember is that before you place the cover, you should make sure that the fire pit has completely cooled down.
How to measure your fire pit screen
Before you order your cover, you will need to carefully measure the fire pit it is meant to cover. Our guide below will walk you through the steps to correctly and accurately measure your fire pit to ensure you get the best fit.
It is easy to get the measurements of a square or rectangular fire pit. All you need to do is measure the width and length of the fire pit, as well as its height. Then, make sure that the cover or screen is large enough to envelop the entire structure.
But how do you get around to measuring a round fire pit?
Well, the first thing is to measure the diameter of the fire pit. This is the side-to-side center length of the surface of the round top. Next, you can measure the fire pit height from the ground to the tip of the fire pit and go for a cover that is an inch shorter than this height. It will ensure breathability and help air circulate through the structure even when you're not using them for a while.
What material to choose for a fire pit screen
If you are trying to find the best material for your fire pit screen, we would recommend going for stainless steel. It is strong and conducts heat very slowly compared to other types of metal. Plus, it is resistant to rust and can be great for using outdoors.
However, be careful because lots of fire pit screens only use coated steel, which is cheaper but much less durable and strong. Coated steel can wear away and will be easily oxidated once the exterior has chipped away.
Some other factors to consider when picking out a material for your screen is its ease of movement, weight, and aesthetics.
The Best Fire Pit Screens on Amazon
Sunnydaze Outdoor Fire Pit Spark Screen Cover Guard
The Sunnydaze Spark Screen has an extremely durable design made out of 0.7 mm steel frame and wire mesh for a simple one-piece design. It's easy to use and doesn't require assembly, while the easy-lift handle makes it quite convenient too!
Good Directions 37″ Extra Large Spark Screen
Next is this Good Directions Extra Large Spark Screen, which also comes in several sizes depending on what you need. It features a hinged spark screen that lets you access the fire without having to lift the entire screen up. This can be great for roasting marshmallows and other treats, for example.
Good Directions 782 30″ Square Spark Screen
This last one is also from Good Directions, but we have chosen a square spark screen that may be more suitable for those who have a square fire pit. This mesh screen is made of powder-coated steel that can keep in any spark and ashes in your pit.
The 20-gauge steel is also heat-resistant, while the black paint gives it a sleek and simple look that will fit in any home style! There is also a convenient handle on the top that makes moving the screen easy.
Final thoughts
All in all, a fire pit screen is truly an integral element of any outdoor fire pit. To measure for your fire pit screen, you just need to know the dimensions of the structure, including its height, diameter, and width.
Good luck to you with your fire pit and remember to stay safe!