Is It Safe to Use a Gas Fire Pit in a Screened In Porch?
A screened in porch is always a great addition to a home. Not only does it provide more living space, but it also lets you enjoy the fresh air while still being protected from the weather and bugs. However, is it safe to use a gas fire pit in a screened in porch?
If this is a question you've been thinking about, then you've come to the right place!
The short answer: is it safe to use a gas fire pit in a screened in porch?
Yes, it's safe to use a gas fire pit in a screened in porch.
What is a screened in porch?
Before we dive in and talk in detail about the safety of using a gas fire pit in a screened in porch, let's understand what exactly a screened in porch is.
This is essentially a porch connected to the house exterior and covered by window screens that can keep out bugs and other debris. A screened in porch is a great way to boost a home's value and embrace the benefits of an outdoor living space without weather issues and bugs.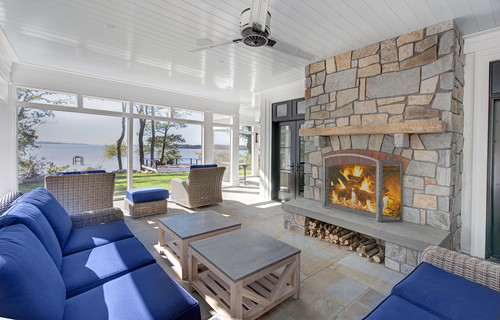 Photo by Avalon Associates, Inc. – Discover porch design inspiration
Why get a screened porch?
Perhaps you were wondering some of the reasons why people might want to build a screened in porch in their home. Here are some of the most common ones:
1. Weather protection
The weather can be a fickle thing, and no one wants to sweat through their clothes in the peak of summer. It can also be difficult to enjoy the outdoors and take in the surrounding views of your home when winter is at its worst. Well, a screened in porch will allow you to enjoy some fresh air without being exposed to the weather!
2. Extra living space
Another benefit to a screened in porch is the extra living space that it provides. With advances in home décor and outdoor furnishing, you can still jazz up your porch area with some of the most lavish furniture and fun décor you can find. From TVs to cosy couches, adding a screened in porch lets you enjoy more living space without having to completely renovate your house structure.
3. Keep out the bugs
There is nothing more annoying than having to swat flies when you dine in your backyard or have mosquitoes feast on your legs as you gather round the fire. Not to mention the bees that come in drones during spring! A screened in porch is perfect because it keeps out the bugs while still allowing cool breeze to stream in.
4. Boost property value
Most homes have a one-dimensional design with a standard backyard, so adding a unique feature like a screened in porch can truly ramp up the value of your property. This can be a huge plus point if you want to sell it one day, or even simply refinancing your mortgage!
Are gas fire pits dangerous?
Next up, let us address the important question: are gas fire pits dangerous? This decorative structure is mainly used in outdoor spaces for cooking and aesthetic purposes. Unlike a wood fire pit, they use gas to ignite and is easier to use.
Thanks to modern technologies and standards, they are actually safer than a regular campfire, though we'd still advise caution. We even recommend getting a gas fire pit if you have children in the use. Just try to go for a CSA-certified product for added safety!
What is the safest fire pit?
When talking about the safest fire pit you can get, pick those powered by propane or natural gas and made from safe, durable materials. Any fire pit with a CSA approval is a safe bet because it means that the product has met recognized safety standards.
Can you use a gas fire pit in a screened porch?
Yes, you can put a gas fire pit in a screened in porch. The most important thing to remember when building a fire pit in your home is that they should only be in outdoor places with fresh air. However, because a screened in porch has plenty of fresh air coming through and a good ventilation, it's still safe to place a gas fire pit there.
According to guidelines by the CSA, gas fire pits are recommended only for use in an open-air environment. While propane fire pits do not produce smoke and sparks like a wood fire pit, it still gives off carbon monoxide. This can be toxic and dangerous when placed in a closed room and environment. That's why having good air ventilation can come into place.
Can I put a fire pit under a covered patio?
Yes, you can put a gas fire pit under a covered patio as long as its ceiling height exceeds the minimum requirement from CSA, as well as the distance from the appliance. But the same does not go for wood fire pits.
A wood-burning fire pit would give off thick smoke that is dangerous when contained in a covered patio or indoor room. Therefore, a gas fire pit would be much safer to use in covered areas.
What do you put under a fire pit under a patio?
Let's say you have decided to place a fire pit in your screened in porch. Is there anything you should place under the fire pit to protect your patio ground or flooring? The answer is yes!
First, make sure that the ground under your fire pit is level, so that your fire pit can be built on stable ground to ensure safety. Some of our top choices of materials to place under a fire pit are fire-resistant ones. This includes gravel, concrete, bricks, and even porcelain tiles.
What is the best base for a fire pit?
The best base you can use for a fire pit at home is either brick, concrete, or stone. These are super durable and resistant to heat, while still being quite easy to find. Other materials like granite gravel and marble can also be excellent options to try!