Using Wood Fire pit Under a Covered Patio
Fire pits can be a fantastic addition to any patio. It offers a lovely ambiance as well as a great spot for entertainment and making fresh s'mores. But is it safe to use a wood fire pit under a covered patio?
This might be something you're wondering about, especially if you have a covered patio and want to elevate its design even more.
Well, not to worry, because today we will discuss everything you need to know about using fire pits in a covered patio. From the definition of a covered patio itself, to the differences between a wood and gas fire pit, to some of our best safety tips.
Let's get right into it!
What is a covered patio?
A covered patio refers to an attached structure to your home that provides rain coverage. It can be in the form of an open or solid roof, and is sometimes known as a pergola.
Wood fire pit vs gas fire pit
There are many aspects where a wood fire pit may differ from a gas fire pit, but here are some of the most prominent ones:
Fuel storage
When you use a gas fire pit, you will typically have a storage tank of around 15 to 100 gallons, depending on the size of your fire pit too. While this may make it more convenient, the downside is that you will need a place or creative method to hide the gas tank.
Meanwhile, you need firewood to fuel your wood-burning fire pit. This means you have to physically store the wood and have a good place to keep them. If your house has a wooden frame, we strongly suggest against placing it near it, as firewood is a breeding ground for termites.
Installation
This is where wood fire pit may win, as it is much easier and faster to install. That is because you don't have to deal with gas lines and pipes. With that said, you may need to spend more time stacking and carrying the firewood when you want to use them, so that is something to consider.
Costs
The price for fire pits can vary wildly as it depends on the type of material and size of your fire pit. With a wood fire pit, you may need to spend anywhere between $500 to $1,500. There are factors like the type of stone for the fire pit surround, installation, as well as other finishing touches.
While you can get a gas fire pit for as low as $500, the price can go up to $3,000 or more, depending on the material, size, and where you are installing it.
Safety
It's possible to use both wood and gas fire pits safely. With a gas fire pit, you have to pay attention to possible leaks and perform regular maintenance on the lines. On the other hand, it's important to ensure that you have put out the fire in a wood fire pit completely. You should also place it away from flammable items and materials.
Efficiency
So, is a wood burning or gas fire pit more energy efficient? Gas is definitely more efficient as it emits less emission. In fact, a wood fire pit tends to emit 28 lbs. more emission when in use, compared to natural gas.
In terms of environmental impact, they're pretty neck and neck. Gas is an unrenewable resource but does burn much more cleanly than wood. This means that a wood fire pit may not be ideal if you suffer from asthma.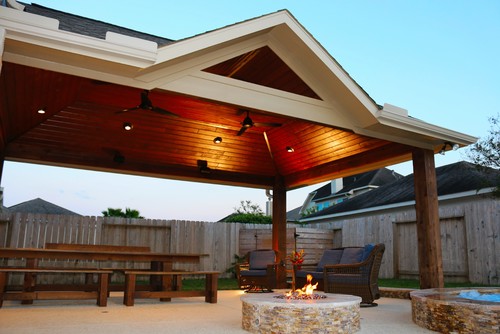 Photo by Tradition Outdoor Living – Look for patio design inspiration
Can you use wood fire pit under a covered patio?
The quick answer to this question is yes, it's not recommended to use wood fire pit under a covered patio. A wood-burning fire pit can produce heavy smoke that is toxic and can build up fairly quickly.
Unless, of course, you have an extremely high ceiling and open air on all sides of the patio.
If the ventilation and airflow in your patio are not good, it's easy for the smoke to accumulate and deplete oxygen from the air. Plus, flammable objects in the proximity may also catch fire.
If you want to evoke the ambiance of a fire pit in your covered patio, then we suggest going for some other alternatives, including a gas fire pit or even patio heaters and an outdoor fireplace.
How to safely use fire pit under a covered patio
Yes, it is possible to use a fire pit on a covered patio. But it's always best to go with a propane or gas fire pit and never use a wood-burning system. This is because gas fire pits do not produce thick smoke and toxic fumes.
Make sure that your patio has a high ceiling, excellent ventilation, and fireproof floors. It's also essential that you place the fire pit at a safe distance from wood furniture and other easily flammable objects.
On that note, you can check out our full guide on using a propane fire pit in a covered patio!
Final words
If we had to sum it up, then it's time to reiterate that it's not the safest thing to use a wood fire pit under your covered patio. The smoke that it produces may build up under the ceiling, causing both toxin and, possibly, fire.
The best thing to try if you want to have a cozy fire feature in a covered patio is to use a gas fire pit, as you would in a screened-in porch. This will give you the same warm ambiance. Another alternative is to install an outdoor fireplace or just a regular patio heater.
Whatever you end up going with, do try to find out all you can about the product and stay safe.